Miami Wash & Fold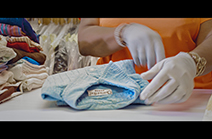 Your laundry, charged by the pound, handled with care.
Utilize our wash and fold service, with FREE pickup and delivery, and have your clothes back within 24 hours.
Our experienced staff at Sunny Pickup takes great care of your laundry articles, including:
Washing only your items (we never combine your laundry with another customer's)
Identifying the washing requirements of each item
Separating by color, temperature and degree of agitation
Pre-treating stains
Using first grade stain removers, detergents, fabric softeners and dryer sheets
Following your special instructions and preferences (such as using your own soap)
Drying and neatly folding
Sorting by family member (if requested)
Download our app on your mobile device for iOS by clicking here or Android by clicking here, or browse our website from your computer.
Then place your order by adding items to your shopping cart and selecting one of our convenient pick up and delivery time windows.
Upon completing your order, you will receive a confirmation by e-mail or text message; whichever you prefer. When a Sunny Pickup driver is on their way to your location for either a pick up or delivery, you will receive a notification approximately thirty-minutes or less prior to their arrival.
Because not all garments are created equal, our system allows you to alert us of any special care or general instructions related to specific items and/or the way that you want your items to be washed or dried. Our system allows our customers to provide specific instructions for each and every item added to the shopping cart.
Price? Check. Customer Service? Check. Convenience? Check.