Miami Dry Cleaning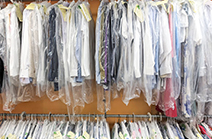 Sunny Pickup provides premium eco-friendly non-toxic dry cleaning for your delicate items. They will come back to you looking newer, more colorful and odorless.
Are you tired of searching for a " dry cleaner near me " and being unhappy with the results? Tired of trying to figure out if you want to use a dry cleaner near your job, or near your home? Worry no more. With Sunny Pickup, the dry cleaner comes to you. Enjoy the ease and convenience of our complimentary pickup & delivery service, delivered every time through our solar powered/battery operated vehicles.
We understand that your dry cleaning is important and that you might have special care instructions, especially for couture items, which is why we prove you with the ability to leave specific instructions for each and every dry cleaning item added to the shopping cart. Our dry cleaning service has a 48-hour turnaround time. Price, service, and convenience. What more could you ask for?