Miami Beach Tailoring & Alterations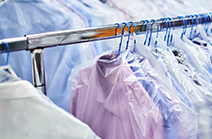 We take pride in offering every laundry service you need.
Once upon a time it was common to see tailors traveling the streets, offering their services to the community, making sure everyone looked and felt great in their clothes. Now with our pickup and delivery service, the tailors are back at it again.
Our tailors have decades of experience in tailoring and alterations in Miami.
We offer the full suite of tailoring and restoration services:
Uniform Alterations
Zipper Replacement & Repair
Outerwear Alterations
Shirt & Blouse Alterations (shorten the sleeves and pinch the width)
Dress Alterations (length or width)
Skirt Alterations
Jeans/Denim Alterations (hem)
Children's Clothing Alterations
Pant & Trouser Alterations
Shoe Shining